I warn to the control in case of blows, attempt of take-off of the motorcycle. Sensor of blows with 5 sensibilities. Alarm with siren of 120 dBs. Burglar-proof - immobilizer. It allows to cut the ignition of the motorcycle. 2 controls with backlit screen and configurable. Remote total control. It allows to know if we have the Motorcycle in area of coverage of the control. Resistant to the water (splashes, not submersible). Easy installation and use. Scheme of assembly. Instructions in Spanish and english. Warranty 2 years
Vehicle Security & Tracking Tramigo T23 NO MONTHLY FEE
Suitable for car and moto security and protection. Ideal for consumers (car & motorbike owners), SME fleet owners, finance companies, car leasing/rental companies and insurance companies.
Easy to install
T23 Track is easy to install to any car or vehicle and can be fully hidden. Just insert the SIM card and connect T23 Track to vehicle power and you are ready to track your vehicle and turn the needed automatic reporting on.
Monitor and control your vehicles without monthly fees
T23 Track communicates its location to you via SMS or GPRS. Tramigo M1 Move is easy to use and free SMS application for smart phones.
There are no monthly or annual fees, the user pays only the normal operator fees of the data or SMS usage.
Monitor driving habits and reduce fuel costs
Detect idling engines, speeding, and other fuel consuming driving habits.
Prevent unauthorized trips and theft
Set allowed zones for your vehicles, get instant notifications if your vehicles start or complete trips and connect T23 Track to external inputs to detect ignition, tampering, door opening and more!
Utilize practical accessories
Arm your vehicle with T23 internal motion detector, utilize optional door opening sensors and burglar alarm to protect your vehicle.
Monitor vehicle use and status
Keep up vehicle maintenance schedules with T23 Track's odometer. All reports can be compiled by vehicle into visual vehicle usage statistics with total trips, distance traveled, average speeds and more!
T23 Track Key Features:
Geofencing to detect unauthorized vehicle use / detours.
Power reporting to detect disconnection or bad vehicle battery
Motion detection to secure parked vehicles & unguarded assets.
SOS button to send out vehicle location when in need of assistance.
Ignition detection and disabling (optional)
Speed reporting to eliminate bad driving habits.
Periodic reporting based on time or distance travelled.
Idle alarm to detect running engines.
Inbuilt temperature sensor
GPS antijamming features to remove interference from up to 8 jammers.
Accurate GPS positioning with GPRS & GSM communication.
Landmark data for easy location even when maps are unavailable.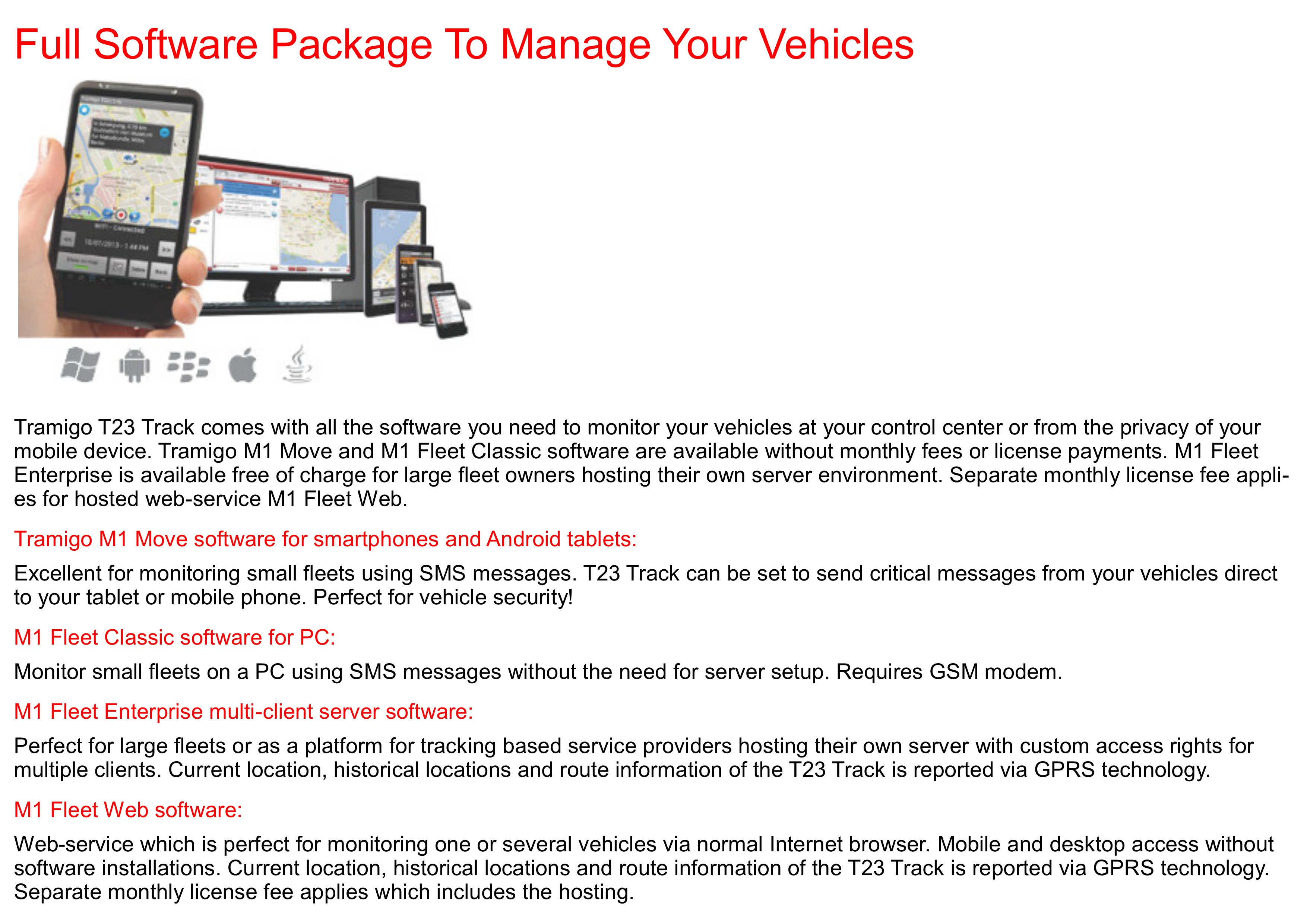 Technical Specs:
Technical Specifications
Hardware Specifications
Size: 100 mm x 60 mm x 21 mm
Weight: 120g (with battery), 90 g (without battery)
GPS
SiRF 4 based GPS module, Telit JF2
Internal antenna
Cold Start: <35 s, Hot start: 1 s
Signal strength acquisition -147 dBm, tracking -163 dBm
Ports
USB - micro USB - power and data input/output
GPIO - Molex 43045-1200
1 power + 1 optional power
1 ground + 1 optional ground
2 digital inputs + 2 optional inputs
1 digital output + 1 optional output
Note: Optional features available with Full IO cable
Temperature
Operating -20 to +80 °C
Charging 0 to +45 °C
GSM
850/900/1800/1900 Sierra Wireless Wismo 228
Internal antenna
Multi slot class 10, Terminal B
Power
Input Voltage 6 - 32 DC
3.7 V, 1300 mAh, Li-Polymer inbuilt replaceable backup battery
Charging through USB or DC supply input
Typical power consumption 40-90 mA, standby 1 mA